The case study of a patient suffering from Gall Bladder stone problem was completely cured and healed using homeopathic medicines from Dr. Vaseem Choudhary. Here are the details:
Name of Patient: Mrs.Sobha Nandigama
Age: 56 Years
Gender: Female
Location: Pune
Due to Stones in Gall Bladder, there was severe pain and discomfort Continue pain Right side liver region indigestion while eating food
Nausea and vomiting worse from the smell of food
Fever in evening
Along with this she also had Difficulty in swallowing solid as well as liquid.
Headache continuously going on
She was a K/C/O – Hypothyroidism and on treatment.
Doctors advised for sonography and then it was revealed that she had Gall bladder calculi and an operation was required to remove the Gall Bladder, but Mrs. SN is not Interested to go for surgery
In the Mean, while someone told her to Dr. Vaseem Choudhary and she starts taking homeopathic medicine from Dr. Vaseem Choudhary
Medical Report before Starting Homeopathic Treatment Gallbladder stone:
Here is the Sonography conducted on 26th June 2021. The medical report clearly mentioned that there are one calculi of size 8mm in the Gall Bladder of the patient. Also, the Gall Bladder was partially distended.
The treatment was started by using homeopathic medicines from Dr. Vaseem Choudhary on 01/08/2021.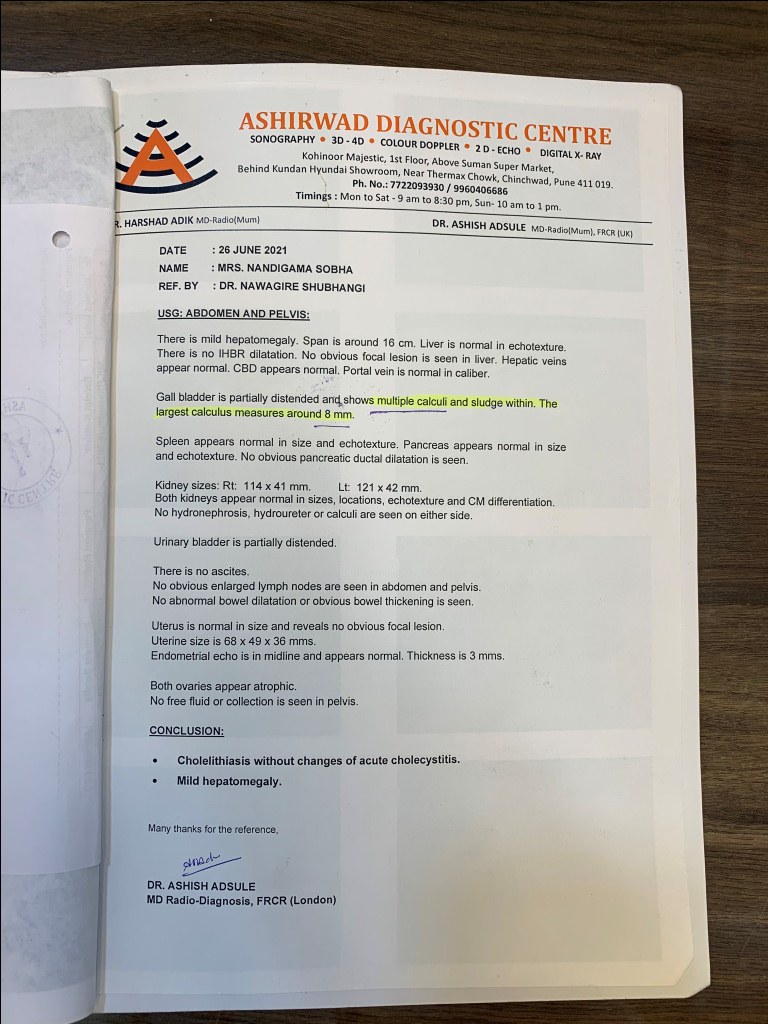 On Follow up 23/09/2021 – Her pain reduced, Headache less, No Nausea and vomiting. Swallowing improved. Advised to continue the medicine for 3 months
On 5/12/2021 – No Nausea, No Vomiting, Pain while eating reduced, Headache completely stopped. Patient came up with reports
Medical Report after Treatment:
This medical test was conducted on 04/12/2021. The report clearly shows that there were no more stones or calculi in the Gall Bladder of the patient. Simply the Gall Bladder was clear from any stones, calculus, mass, polyp, or biliary sludge.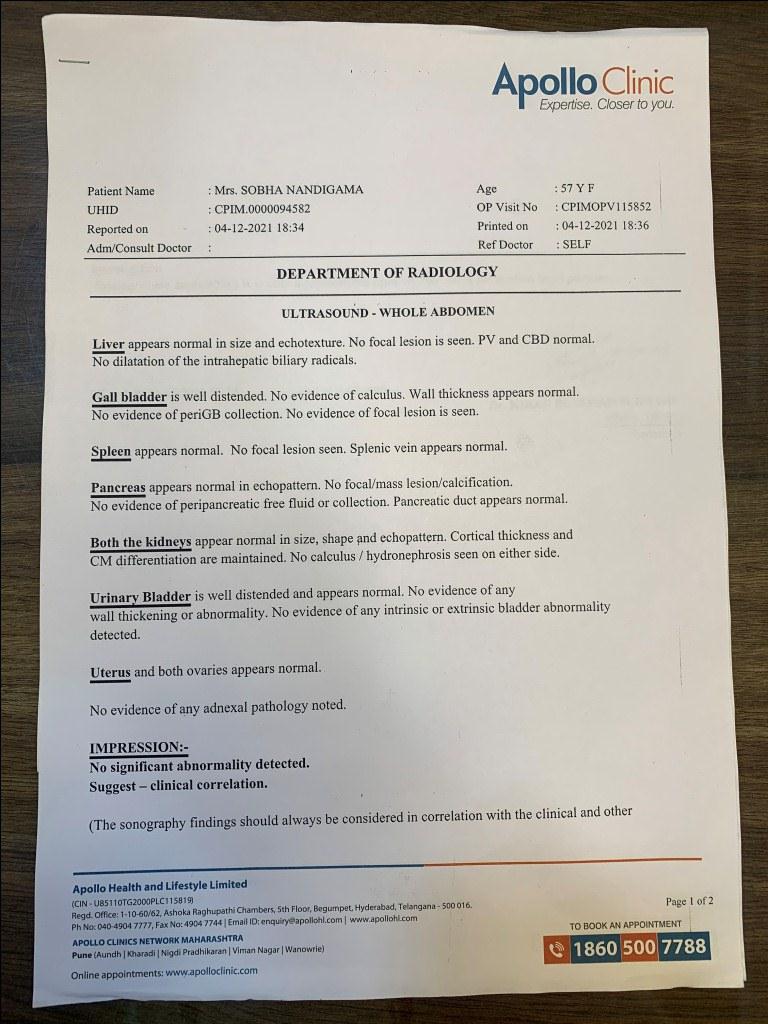 The Gall Bladder calculi of 8 mm can be removed from the Gall Bladder of the patient within 3-4 months. The treatment was done by Dr. Vaseem Choudhary using homeopathic medicines.